Stallions:
Name: Heat
Age: 6
Gender: Stallion
Breed: Westphalian
Looks: Bay, Brown eyes
Height: 17.2 hh
Personality:
Is a wild and rugged stallion. He likes to play tough around the others and always keeps calm in all situations but he has a short fuse when it comes to his temper. He tries to keep calm but when he reaches his limit, he works off the steam and tries to cool down his boiling blood.
History: As a foal, he was tame but was never the one to carelessly keep. When one of his owners died, he was sent to their grandchildren where they taught him how to be a real wild horse. Once he was a colt, he caused major damage with his tricks. After he became 4, he was to be taught to be able to be ridden but with the damage, the stayed away. At age 5, they tried to make him a stud but injured the vet once he bred his first mare and with no choice, they sent him to the wild to be what he was taught to be.
Other: He can't stand stallions that mess with him and he is suave and romantic with the mares.
Picture:
Name: Lord
Age: 10
Gender: Stallion
Breed: Drum Horse
Looks: Skewbald Tobiano (Black and White) with blue eyes and sandy blonde hooves.
Height: 15.2 hh
Personality: He is a breath taking stallion that all mares will love. His movement, his sweet voice, and his blue eyes, you will want to die. He loves to be suave and perfect for the perfect mare he meets.
History: He a top tame horse, meaning he was always tame sense birth. One day, his gate was left open and he got curious but it was a trick for their evil and cruel nephew let him loose and was never returned to them for he became wild.
Other: WARNING: He'll take every mare's breath away!!
Picture:
Name: Nino
Age: 6
Gender: Stallion
Breed: Russian Don
Looks: Chestnut coat with brown eyes and tan hooves
Height: 17.0hh
Personality:
Is a tough stallion. He will, and is able to, swoon each and every mare with one glance in order to trap them. He is a snake, trapping every mare in heat that he meets and lures them to where they can't escape and breeds them. He always makes sure his sweet and precious eyes can mast the horrid nature within him. He won't care what happens to the mare though he puts their name on his hoof-written list so he can remember when to breed the mare. Once done, he leaves them to do whatever.
History: He doesn't remember at all but it goes like this:
His mother was a mare that was a human-loving mare but got lost in the Garden until she met her dad (Thoroughbred mare x Westie stally). She found out her was a regular, wild, forcer stud but it was too late. She had to pick between staying and going. Deciding to go, she fled the area but was not fast enough because she was pregnant with his rotten foal. She didn't know that he actually loved her when he realized it and he went after her but being mistaken for a deer, he was shot by hunters and killed. Once she returned to her humans, they found out she was going to have a foal and decided to take it away from her once weaned. After he was born and weaned, they tried to take him but she protected him and for that, they killed her. Not wanting to stay where his mother was, he jumped the high fence after she was killed when they tried to escape and made a started to survive in the wild, never to see those vile, rotten humans again but became like his father.
Other: He is a stud and a forcer at that. He has his own cave but will one day settle down, just not so soon.
Hoof-Written List of Mares:
Annabell
Picture: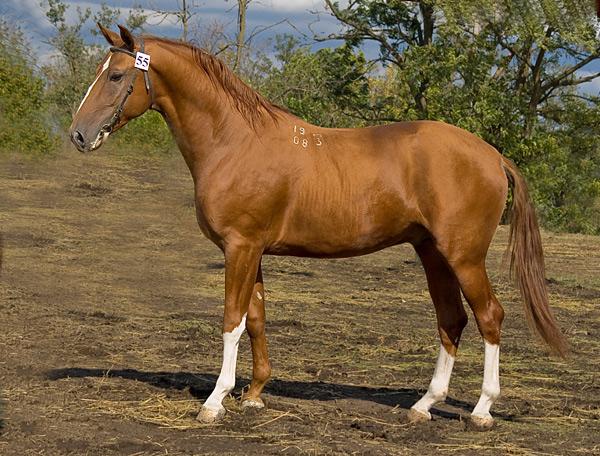 Last edited by WestJailFest on Sun Nov 11, 2012 12:17 pm; edited 3 times in total
Mares:
Name: Josette
Age: 4
Gender: Mare
Breed: Trakehner
Looks: White with blue eyes and grayish-black hooves, muzzle matching
Height: 16.0hh
Personality:
Is a adventurous mare. She has a big temper with a small fuse that can be lit at any time. She always gets kidnapped by forcer stallions but has Lillian to save her.
History: Doesn't wanna talk bouts it
Other: DERP
Picture:
Name: Lillian
Age: 4
Gender: Mare
Breed: Lipizzaner
Looks: White with blue eyes and black hooves
Height: 16.0hh
Personality: Is calm and quiet but very responsible. She treats Josette as her foal and always has to save her but doesn't mind. She cares for Josette dearly and won't be pregnant if she isn't.
History: Has short-term memory so she can't remember
Other: If one gets pregnant, so does the other and visa versa. also..... D.E.R.P.
Picture:
Name: Cloud
Age: 3
Gender: Mare
Breed: Thoroughbred
Looks: White with a pinkish muzzle and grey-tan hooves and blue eyes
Height: 17.2hh
Personality: Is a skittish and jumpy mare because she is not only a beauty to a lot of things, she also knows how to bring the bachelors and forcers fast. She is passive aggressive, meaning she is sweet and gentle but has a fiery attitude.
History: She lost her mom at age one. They were testing out her speed when some forcer found them and fell for her. Running, the stallion killed her mom when she blocked him from reaching her and Cloud escaped, not to see him again. After that, she always kept her skills in check in case she went into heat.
Other: She knows how to jump, run really fast, and swim.
Picture: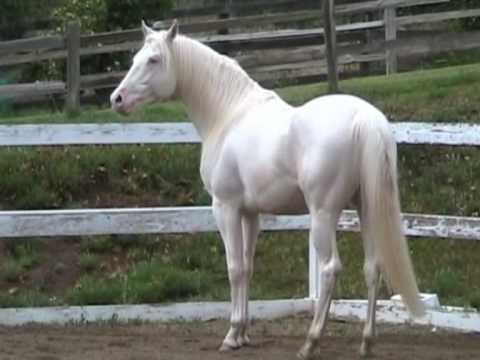 Name: Goldie
Age: 3
Gender: Mare
Breed: Lustiano
Looks: Buckskin with honey golden and tan hooves
Height: 16hh
Personality: Is a lusty mare. She never has bred before but has heard many things of it and always craves it. She adores forcers and everything they do to mares, making her not able to resist it. She is a good mare, just she loves breeding. She doesn't matter what happens to her, as long as she gets what she wants.
History: Can't remember cause her past is behind her.
Other: Nothing for nows
Picture:
Last edited by WestJailFest on Sun Feb 10, 2013 8:45 pm; edited 4 times in total
Foals:
Name: Mamba
Age: 7 months
Gender: Colt Foal
Breed: Warlander
Looks: Black with black hooves and brown eyes
Height: 10.0hh
Personality: Is a quiet and agile foal. He likes to use the quick way. He is good but knows how to be like a ninja.
History: Was an orphan sense he was a child. He never knew his parents and spends his time alone.
Other: He is a boy and is adoptable.
Picture:
Name: Cookie
Age: 7 months
Gender: Filly Foal
Breed: Warlander
Looks: Bay with brown eyes and black hooves
Height: 11.2hh
Personality: Is tough, smart, quick footed and leading foal. She always likes to be leader in games.
History: Is an orphan so doesn't know much about herself.
Other: :3 BEWARE!!
Picture:
Last edited by WestJailFest on Fri Nov 09, 2012 3:35 pm; edited 1 time in total
You can ask me on here or message me if you want to RP with any of them. For now, i'll be making more.

Stallions can be - Studs, Friends, Mates, Challenges
Mares can be - Breeding Requested, Mates, Friends, Daily Company
Foals can be - Friends, Daily Company, Future Breeding Requested/Stud

---
Permissions in this forum:
You
cannot
reply to topics in this forum