Credit
M i s e r y ' s  S i l e n c e
N a m e
Misery's Silence
N i c k n a m e
Misery or Silence
A g e
437 years(Immortal)
G e n d e r
Male
S p e c i e s
Wolf
B r e e d
Immortal Wolf x Timber Wolf
Credit
P e r s o n a l i t y
Misery's Silence, or what he's normally called, Silence, is a merciless brute with a thirst for blood and hunger for flesh. He was born to kill, descended from a murderous family for generations, and was given no choice but to follow as a pup. Silence gets his name because he is a silent killer, rarely ever allowing himself to be visible. But his other name, Misery, is given because of how much pain and agony he can cause, and wears his name with pride. Silence has no problem with killing or for emotionally scarring one of his own. He is sharp-tongued, mean, and vicious to most he meets and enjoys the look of fear in his victim's eyes. Silence has followers, that of three males and two females, and they could be considered nearly as ruthless as Silence himself, but he doesn't let that get in the way of his dominant rank. He's a lady's man, easily able to charm up a female, and his looks help with that a lot. Although, he rarely takes interest, unless of course, the female is innocent. Beneath everything he is made out to be, Silence can be extremely caring, once you get past his titanium wall.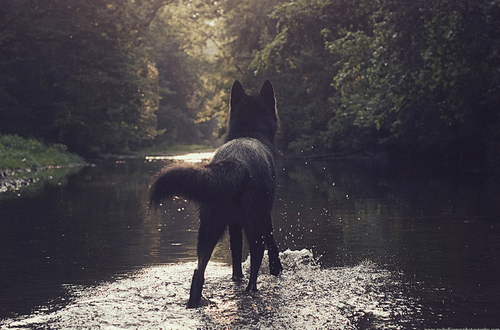 Credit
F u r C o l o r
Coal black, sometimes appears slightly brown in sunlight.
E y e C o l o r
Varies from Crimson Red to a rich Amber color.
H e i g h t
6'4" feet tall.
W e i g h t
304.3lbs.
Credit
P a r e n t s
Despair[Father] Unknown
Autumn Frost[Mother] Alive
S i b l i n g s
Scourge Misery[Half-Brother] Alive
Hawk Flight[Half-Brother] Unknown
Silent Night[Half-Sister] Unknown
Trish[Sister] Deceased
Credit
S t r e n g t h s
Incredible liar
Speed
Power
Easily manipulative
Charming
Can hold his own in battle
Intimidation
Domination
W e a k n e s s e s
Unsympathetic
Not very understanding
Merciless
Often says things to hurt others purposely
His past
Credit
H i s t o r y
Never speaks of it.
F e a r s
His past, and falling in love.
L i k e s
Blood
Killing
Charming up females
The night
Being in control
D i s l i k e s
Clingy females
Being beaten
The afternoon
Birds
Credit
M a r k i n g s
Has many scars all over his body
M a t e s
Nita[Deceased]
Scarlet[Deceased]
P u p s
Has a few, but denies they are his.
T h e m e S o n g
Animal I Have Become by Three Days Grace
This Is War by Thirty Seconds To Mars
Credit
_________________
"It's not the nightmare people are afraid of. It's the fact they might not wake up."
Admin





Posts

: 8331


Join date

: 2012-07-10


Age

: 17


Location

: Don't need to know, stalker. c:




---
Permissions in this forum:
You
cannot
reply to topics in this forum